The contents of this page have been greatly modified and edited since Dave Cushman last updated it. There are several gaps and I will try to fill them in when I have the information. To avoid cluttering up the "A-Z Index" I have put all Gormanston related pages here. Roger Patterson
This page of links to FIBKA Gormanston Summer School gives an indication of the content of this week of beekeeping education. Dave Cushman was very enthusiastic about this annual event, which really does have to be visited before you can fully understand it's importance in the beekeeping calendar.
It has been run every year since 1947 and is a reflection of the high standards of lecturers and demonstrators there are in Ireland. They don't just use their own, but have a fair number from elsewhere, including one guest speaker.
Not everything is to everyone's taste, but that doesn't matter because there is so much available at any one time. This is the sort of event that could be supported by a group of beekeepers, perhaps from one BKA.
The creation of this index also provides me with a place that I can lodge some additional photographs that have not been included in the various previous year's reports.
The links at left include some that are not on the "A-Z Bee Index" text links and for tidiness have been rearranged. Most of the photos are attributed to those who took them, but if I have missed any, please tell me by Email and I will correct the matter. The 2002 programme was assemble retrospectively from file fragments found in Internet archives. The 2004 programme was also retrospectively put together, using a file from the original irishbeekeeping.ie web site that I had saved on my computer.
The outside of the yew walk is visible in many of the existing pictures, this one by Chris Slade shows what it is like from the inside.
Although the Gormanston course is a beekeeping summer school, there is plenty for non beekeepers to do. There is a wide range of facilities in the College which are available free of charge to the families of those attending the Summer School, including a well appointed swimming pool, squash courts, handball and tennis and a private 9 hole golf course. There is also a running track, but recently this has fallen into disrepair. There are many acres of parkland available to walk in and enjoy.
Gormanston beach is about a mile from the college and I understand that there are fishing facilities for those that wish to pursue the sport of angling.
On rare occasions there are some unusual loud noises from the Air Gunnery school, but on the occasions that this has happened while I have been there, it has never caused any problems. When the gunnery school is in session there are a number of army guys in the pubs that may make them a little busier than usual.
If you can arrange to bring a bicycle there are many interesting places within easy reach. Balbriggan and Drogheda are easy targets for cyclists and I believe there is an internet cafe in Drogheda, if you wish to catch up on your Email.
Apimondia 2005, in Dublin, was organised by many of the same people that put the Gormanston Summer School together, but although enjoyable in it's own right, it had only a fraction of the impact and enjoyment that can be had from the Gormanston event. So if you have been to an Apimondia conference, but have not yet sampled the delights of Gormanston, you can expect a greater emphasis on meeting friends and attending lectures, however there is no exhibition involved in the summer school, although supplies of beekeeping equipment can be purchased on site.
David Blackwood's article has also appeared in
'An Beachaire'
(The Irish Beekeeper) magazine and is re-printed here with his permission.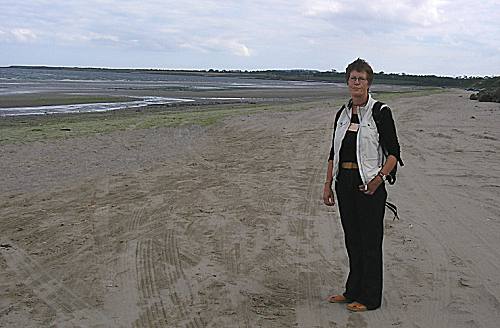 Chris Slade is more able to walk than I and has visited Gormanston beach several times... In 2006 he shared his stroll with Annette, who he has pictured here.
If you like walking there are many pleasant scenes in and around Gormanston. The grounds of the college are extensive and the pace of life is slow and dignified.
There is a very tranquil place, it is a small private cemetery where the monks from the Franciscan order are buried. I believe that it is possible to walk to this cemetery using the yew walk or cloister shown further up the page. The photo below is due to Richie Moran.