Cleaning Instrumental Insemination Tips
and cleaning other II items
Ultrasound is a useful agitator of cleaning solutions and purpose made ultrasonic cleaning baths can be purchased quite inexpensively, the package shown below and the image at right is the one I bought from Maplin during 2007 at a purchase price of only £19.99 and is intended for cleaning jewelry.
The fluid recommended is ordinary water with the addition of a few drops of 'washing up liquid' (dish soap). I intend to use this cleaning fluid as a basic starting point and then follow it up with distilled water with 50% alcohol added.
All Items used for II can be put through this cleaning process, prior to sterilisation proper using an autoclave (pressure cooker) or hot air cabinet. It should be stressed that the use of ultrasound is an addition to the cleaning process and does not replace any part of it or any of the sterilisation procedures. It has to be understood that sterilisation for instrumental insemination purposes has to be carried out to an incredibly high standard... Something like ten times better than would be used in a hospital operating theatre is required !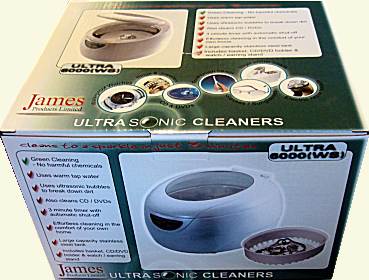 Practitioners of honey bee insemination are mainly beekeepers in their own right, beekeepers are notoriously frugal in the pursuit of their hobby and will garner bits and pieces from all sorts of sources. A beekeeping acquaintance of mine works in a lab that tests blood and in the process they use glass capillary tubes that are normally discarded after use. Such tubes can be rinsed in water, but to ensure complete cleanliness they can be fed through successive solutions in an ultrasonic cleaning bath.

Insemination tips sometimes get clogged with mucous and can be dealt with using ultrasound cleaning. Clogged tips should be stored in a vial containing water or alcohol (or a mixture of both) until they can be cleaned.

Ultrasonic cleaner baths do not kill bacteria or have any sterilising effect, they will dislodge debris and dirt as well as rendering soluble contaminants into solution. The glass capillary tubes present a different problem to most cleaning jobs as their surface is part on the outside and part in the lumen of the tube, as this is long and thin, very little flow will occur during immersion in the ultrasound bath.
Wipe the cavity of the bath with a tissue moistened in alcohol and allow to dry.
Load the tank with water at 40° - 50°C, to the filling mark.
Add on drop of washing up liquid or similar detergent.
Switch the device on and run it for one minute to disperse the detergent through the water.
Place the item(s) to be cleaned in the basket and close the lid.
Switch on and run for the recommended time (most baths have automatic timers).
Remove basket from bath and allow to drain on a tissue or paper towel.
Rinse the items in the basket under running water.
Drain again on a tissue or paper towel.
Dry in a sterilising cabinet and store ready for autoclaving.
In the case of capillary tubes or other items with long narrow lumens, the rinsing stage requires the addition of direct flow of washing water through the lumen to remove any debris dislodged during ultrasound washing. Glass capillaries can be coupled together end to end with short pieces of silicone rubber tubing and water forced through gently using a disposable syringe or the linked capillaries can be attached to a water tap with a suitable adaptor, taking care to use a very minimum of flow, otherwise the pressure will force the joints apart.
I have also cleaned many small items from my toolkit using this device and it is remarkable how much sediment can be produced by items that were ostensibly clean to cursory examination.
Wire Cleaning
Mucous blocked tips can have a very thin stainless steel wire fed down them, similar to the gauge wire that is used for trimming the tips in the first place, but of thin enough diameter to pass through the nozzle portion. The same sort of wire can be used for cleaning perforated sting hooks.
Back Flushing Tips
Using a disposable syringe filled with saline, water or alcohol, with a short length of silicone rubber tubing to act as a coupling, place this over the narrow end of the empty tip and press the plunger to force fluid in order to dislodge the plug.
An Email from Dalibor Titera of the Bee Research Institute Dol includes the following information about sterilising tips (or other glassware).
We have very good experience with the preparation "Dismozon pur" (Bode Chemie Hamburg... Specialists for Disinfection and Hygiene).
Active substance: magnesummonoperoxyphtalathexahydrat
Affective also against Bacillus larvae spores!!

One pack 20 g is for 4 liter solution.
The cost was approx 2,10 EURO/USD a pack in 2002.